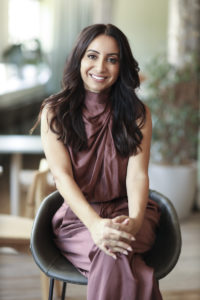 antoinette Lattouf
Award-winning journalist, author, columnist, broadcaster
 "I have supported the Lebanese Film Festival for years because it combines my two great passions: diverse storytelling and ensuring Western Sydney is the headline act.
It is such a pleasure to join as an Ambassador to amplify the amazing work of this festival as it continues to grow and reach wider Australian audiences" 
Antoinette

Lattouf
 is a broadcaster, columnist, author, speaker, diversity advocate, mental health ambassador and terrible at reverse parking.
The multi-award-winning journalist is the co-founder of Media Diversity Australia — a not-for-profit organisation working towards increasing cultural and linguistic diversity in the media.
Antoinette is a co-host of Listnr's daily news and analysis podcast 'The Briefing'. She can also be heard on ABC Sydney. Her columns appear in the Sydney Morning Herald, The Guardian, Mamamia and Women's Agenda.
Antoinette's first book 'How to Lose Friends and Influence White People' was published by Penguin Random House in May 2022. It is a witty and approachable anti-racism guide and an honest exploration of the modern manifestations of systemic racism in Australia today, and how we, as a collective, can take steps to make change. 
In 2019, Antoinette was named among AFR's 100 Women of Influence. In 2021 she was awarded a Women's Agenda Leadership Award and B&T Women in Media's Champion of Change. In 2022, she was an Influencer of the Year Finalist at the Third Sector Awards. In peer selected awards at her year 10 high school formal, Antoinette was awarded Most Likely To Die A Virgin.
Antoinette gave a TEDx talk in Sydney called 'reverse discrimination doesn't exist but tokenism does". Here she tackled the pale, stale, male phenomena by adding what she dubbed 'Gayle' to the mix as a beneficiary of privilege and bias. Antoinette is also an Ambassador for parent's mental health organisation Gidget Foundation after experiencing debilitating post natal depression and anxiety with her second child. She now quite likes both of her children. Antoinette also appeared on ABC's You Can't Ask That, detailing her harrowing journey.